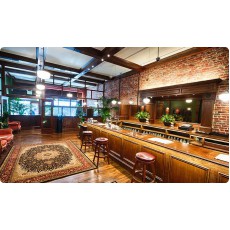 In legal states like Colorado and California, weed dispensaries are evolving from sketchy hole-in-the-wall shops to welcoming, beautiful, open spaces. Instead of feeling like you're buying bud on the wrong side of town, shopping for marijuana now feels as if you're purchasing a brand new iPhone. Or, like you're stepping into a high-end boutique, only it's for ganja not Gucci. Pot shops decorated with tacky marijuana posters that look like something straight out of Spencer's are, indeed, history and these 10 dispensaries with the best interior design prove it.
1. The Green Easy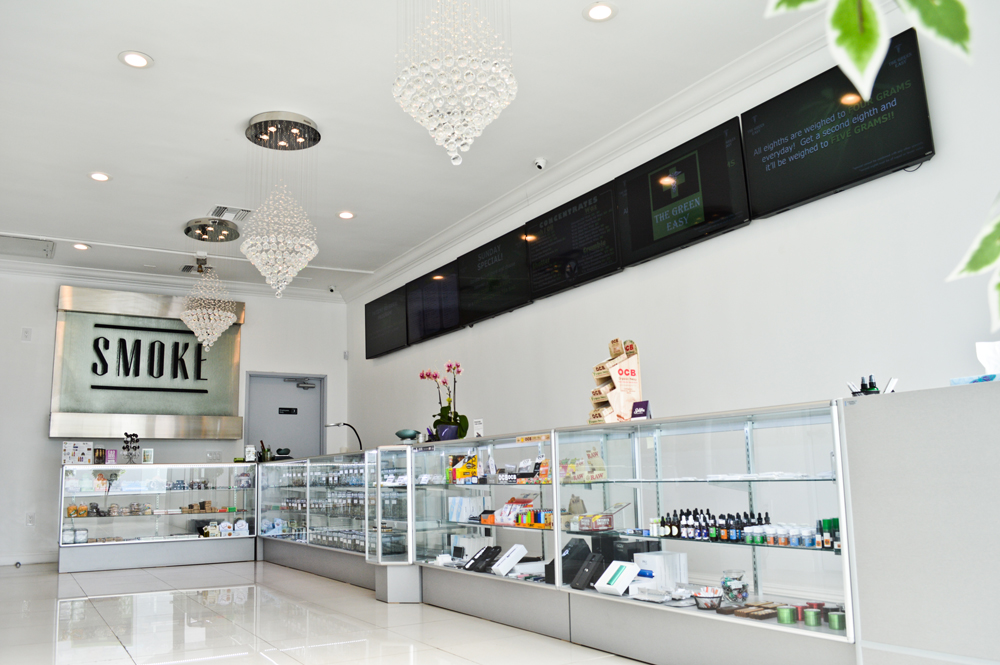 First up is the Green Easy. From snow white marble floors to crystal chandeliers, Los Angeles' Green Easy is more like a palace than a weed dispensary. They've got comfy, beautiful blue head chairs along with flat-screen menus and even an 8-foot "Smoke" waterfall installation to keep you entertained while you mull over the options.
2. Minerva Canna
New Mexico's Minerva Canna is a dream come true for High Road Design Studios, an award-winning company transforming the cannabis experience with professional and elegant retail design. It features leather and velvet upholstery along with sleek glass doors and high-gloss white displays.
3. Barbary Coast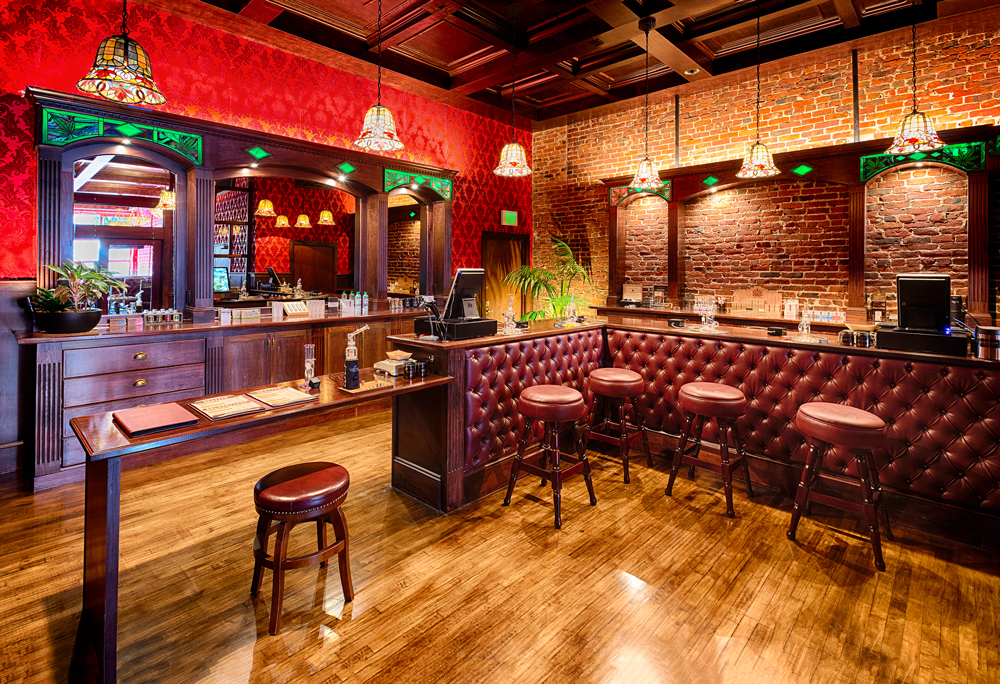 Barbary Coast, located in San Francisco, could easily be confused with an upper-class saloon with its grand oriental rugs, old-fashioned bar stools, and red velvet sofas. Although you can't order a shot of top-shelf bourbon here, you will find that Barbary Coast has an extensive collection of fresh flowers and tasty edible treats, among other healing remedies.
4. Sparc
In 2011, one of Sparc's San Francisco locations won an AIA Interior Architecture Design Award. In addition to "vaguely bong-shaped lights," Sparc features smooth cement floors, steel shelves, and finished wooden tables topped with Volcano vaporizers.
5. Grass Roots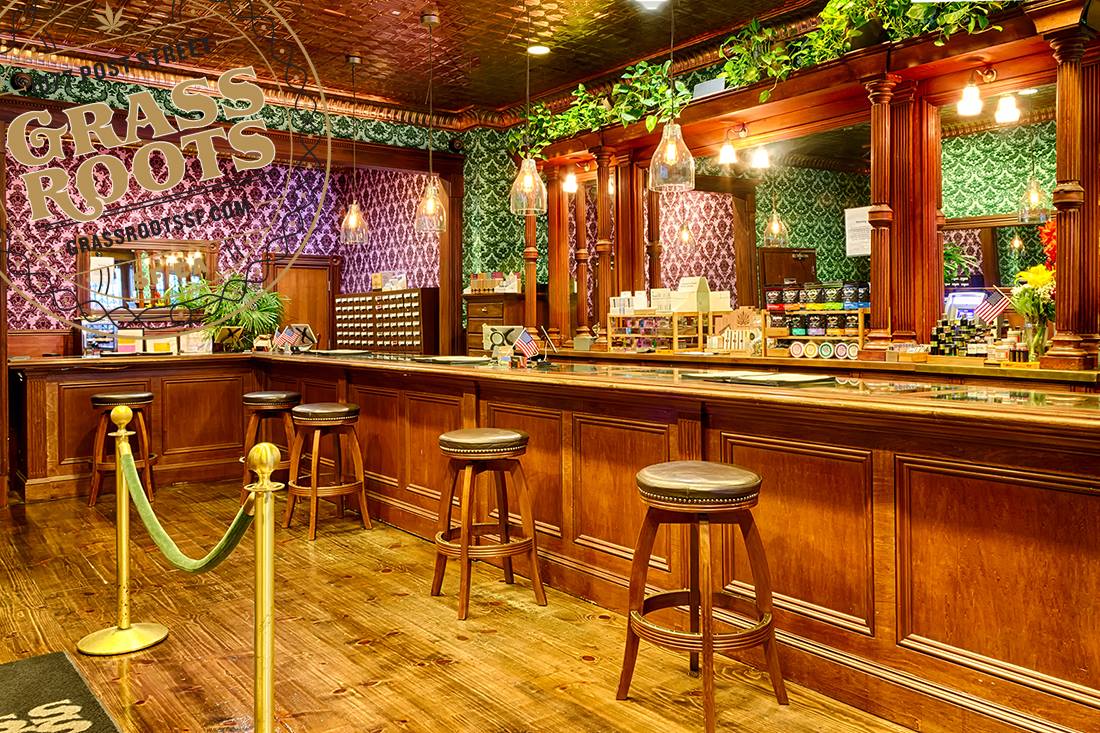 Fifth on the list of the 10 dispensaries with the best interior is San Francisco's Grass Roots. Perhaps what's most eye-catching inside Grass Roots, aside from the bud, of course, is the elegant turquoise and lavender damask wallpaper. But the copper textured ceilings also add a nice touch of sophistication and so do the antique display tables.
6. Bud and Bloom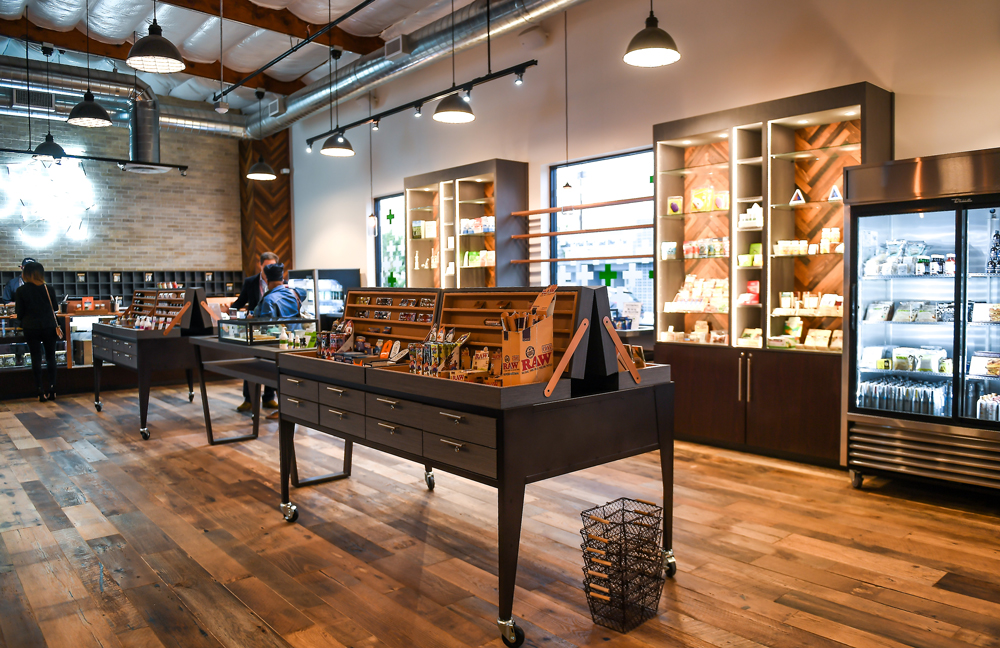 From floor to ceiling, Bud and Bloom dispensary in Santa Ana boasts a chic, industrial design. At the reception desk, you'll find budtenders weighing out cannabis on white marble countertops along with iPads to help you navigate through the generous selection of products. They've got all the most high-end brands and you can peruse them for as long as you like.
7. Paper & Leaf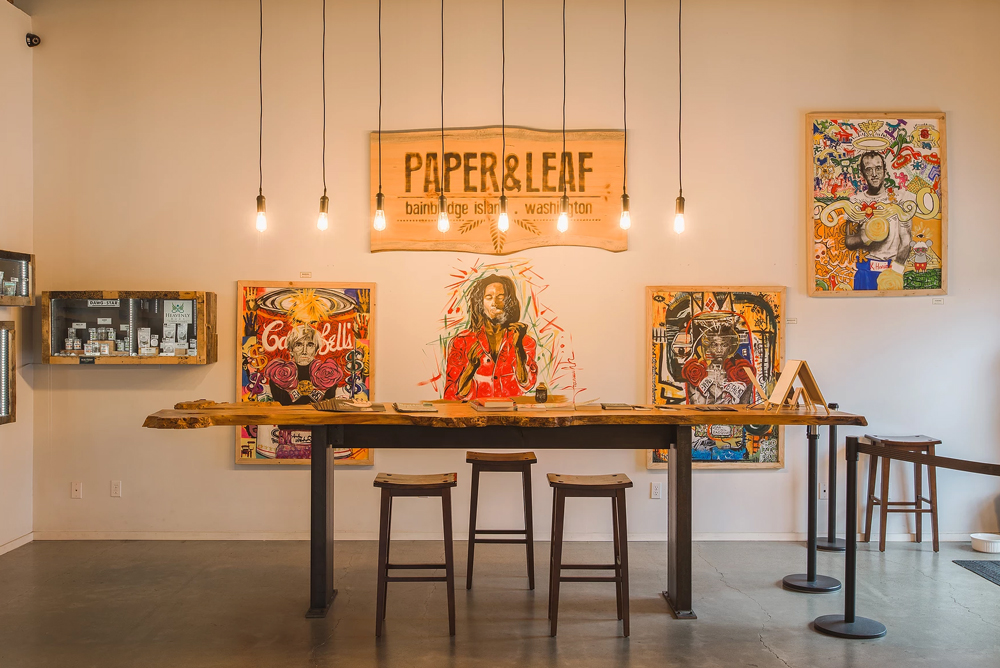 Bainbridge Island's Paper & Leaf combines low, natural lighting and wooden accents for a warm, welcoming feel. Not to mention, it features an inspiring collection of art on its walls and geometric showcases where customers can catch a glance of some of Washington State's finest weed products.
8. Silverpeak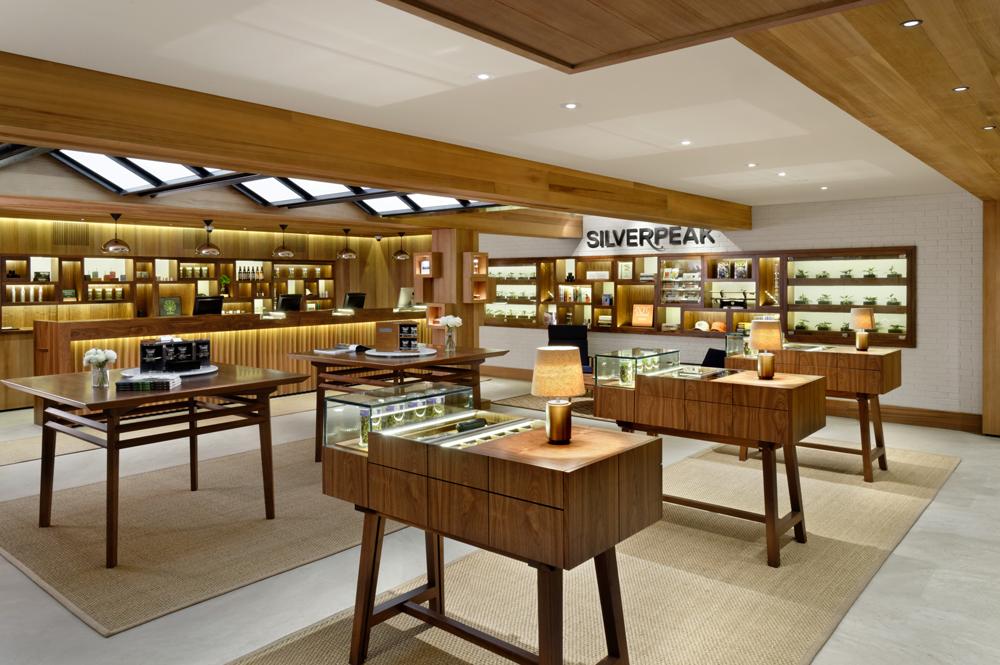 The eighth weed space on the 10 dispensaries with the best interior design list is Aspen, Colorado's Silverpeak Apothecary. Silverpeak is unarguably one of the most high-end dispensaries around. In fact, their cannabis, which the company refers to as "pleasant, well-dressed professionals," is literally and figuratively displayed on a silver platter.
9. TruMed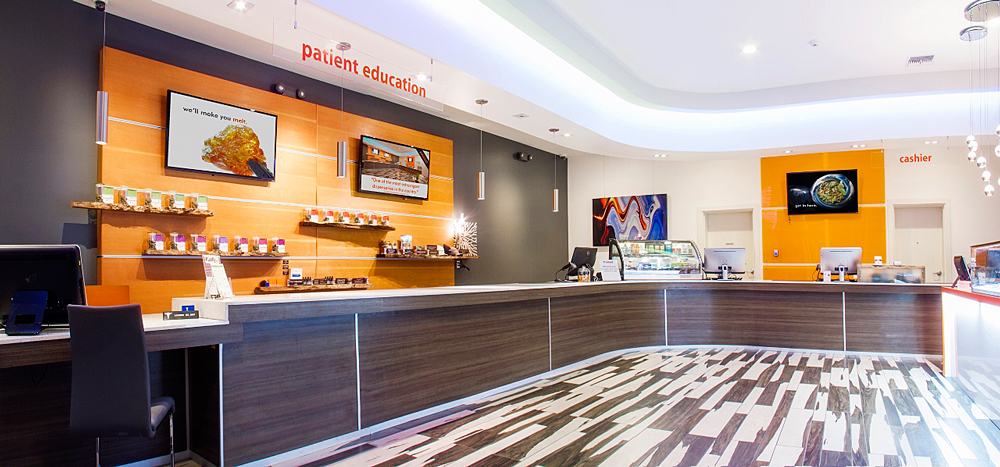 Once upon a time, Phoenix, Arizona's TruMed was a tire shop. Now, it's a bakery/cupcake shop-inspired marijuana dispensary that's both clean and aesthetically pleasing. Speaking of baked goods, TruMed is so safe and welcoming that a Girl Scout actually decided to sell some cookies just outside its doors.
10. Native Roots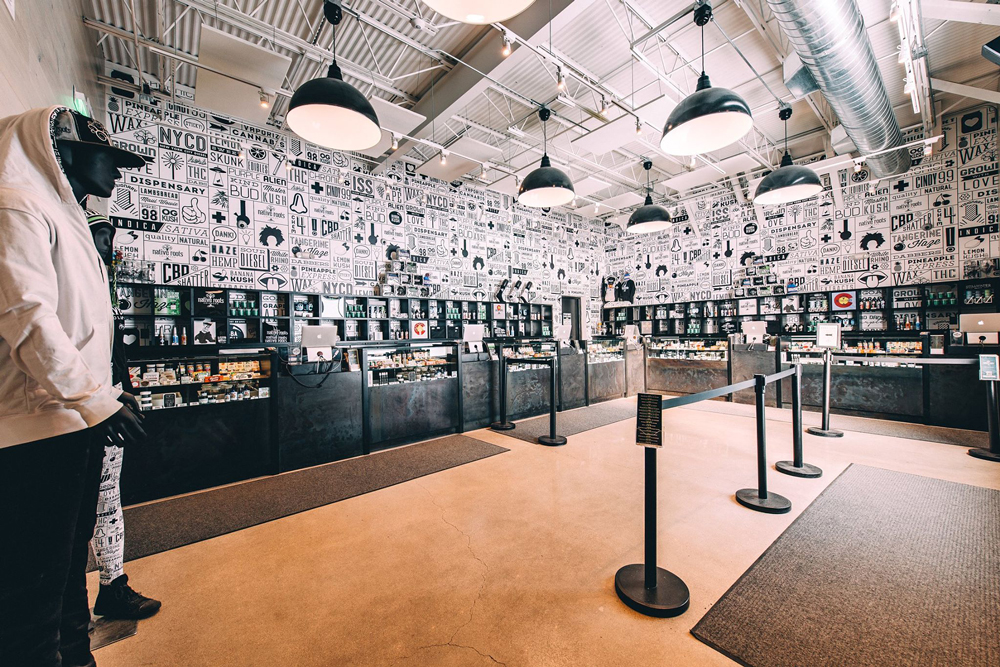 Last but certainly not least on our list of 10 dispensaries with the best interior design is Colorado's hot, hip and happening Native Roots. Native Roots, in particular, is the most significant marijuana chain in the entire state. Each of their 14 locations (props to their very own design team) features concrete floors, graphic black and white wallpaper, and black steel furnishings for a minimalist look.