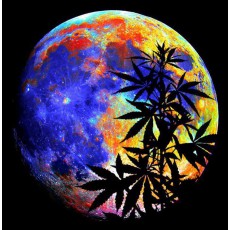 The war on drugs in the United States was officially declared in 1971, suddenly labeling cannabis users everywhere as deviants. Despite the cannabis cultural war, various groups on the outskirts continued to turn to cannabis for a variety of reasons. More specifically, the creative writing community became synonymous with cannabis use. In 2017, decades after the drug war began, do writers continue to use cannabis heavily?
There are a number of famous writers who have lived up to the stereotype of "cannabis using artists." These writers were successful journalists and creative writers, who embraced cannabis vocally and within their works.
Novelist Louisa May Alcott, the author of literary gem Little Women, probably used cannabis. As a writer and woman living in the 19th century, her discussion of cannabis in her works is unprecedented. In of her stories, titled "Perilous Play," Alcott details two lovers using cannabis, writing "A heavenly dreaminess comes over one, in which they move as if on air." Convinced that she used cannabis? You probably should be.
Hunter S. Thompson is a journalist who lived through the war on drugs. As a cannabis user, who found himself indulging in "deviant" cannabis activity, much of his writing focused on other communities also on the outskirts.
"I have always loved marijuana. It has been a source of joy and comfort to me for many years. And I still think of it as a basic staple of life, along with beer and ice and grapefruits – and millions of Americans agree with me," says Thompson.
Like many other things, Thompson considers marijuana an American past-time, embracing it wholeheartedly.
Writer Catherine Hiller is happy to discuss her love of cannabis with anyone willing to listen. She too grew up as the war on drugs began, but the propaganda didn't stop her from loving and using cannabis. Her best-known work is Just Say Yes: A Marijuana Memoir. Of her memoir, she says, "I wanted to show people that smoking marijuana did not make me hit rock bottom." Catherine Hiller is correct, as her marijuana use didn't stop her from receiving a Ph.D. in English from Brown University, or from becoming a successful writer with a decades-long career.
While a number of writers have used cannabis, namely those living before and during the war on drug, are writers today still predominantly cannabis users? While the "creative pothead" stereotype continues to be perpetuated, does it still apply to writers living in 2017? I sat down with writers and poets and discussed their thoughts on cannabis and writing.
Gigi, who writes under handle @cordialcult, finds that cannabis helps to supplement her craft. More specifically, she says "I find it helps boost my creative capability and takes away the focus of finding the "right words. With it, I can kind of just flow." As a meticulous activity, writing can be burdensome. Cannabis helps Gigi from feeling stuck or overwhelmed.
When asked about her relationship with cannabis, another popular writer on social media said, "Big fan…I feel like it opens up a whole different channel for me to express myself." Despite her strong support of cannabis, and its impact on her art, this writer asked to remain anonymous. In a world where cannabis continues to be a taboo subject, this is understandable.
Many of those I spoke to used cannabis because it is safer than many alternatives. Jaxx, writing under handle @randomthoughtsofjaxx, spoke to this specifically. She responded to my questions, saying
"Many people don't realize how many uses there are for cannabis. They think that it's just for burnouts and hippies, but have no idea that if the government hadn't been so stubborn, the medicinal use could have saved the lives of many people! This Marlboro in my hand is going to cause more harm than any cannabis."
More so than ever before, users turn to cannabis for its medicinal benefits. This is no surprise, as cannabis has proven to aid in the treatment of conditions like PTSD, inflammatory illnesses, and mental health disorders.
In addition to speaking with writers who used cannabis for creative and health purposes, a number reported that they don't use cannabis. Many respondents said they either don't enjoy "being high" or believed it compromised their quality of writing.
Benjamin, writing under the handle @BenjaminMFox said "I'm a writer that doesn't [use cannabis] purely because I'm not sure I would trust what I wrote. Edit sober and all that, but I just think I'd delete it all." This is understandable because when you're working a 9-5 and pursuing a writing career, one can't afford to write something untrustworthy or lacking quality.
Other writers who don't use cannabis report a dislike of it. Matt Miller, writing under handle @Millerature, told me "I'm one that doesn't [use cannabis]. I've done it a few times, and I don't enjoy the feeling it gives me." Matt's answer is representative of dozens of writers I spoke to. One doesn't need to use cannabis to legitimize their craft or prove their worth as an artist.
The creative community no longer adheres to the "pothead" stereotype. While writers and creatives of the past and those living through the war on drugs may have turned to cannabis, the same does not hold true today. Having talked to numerous writers, it's clear that individuals use, or don't use, cannabis for a variety of reasons.