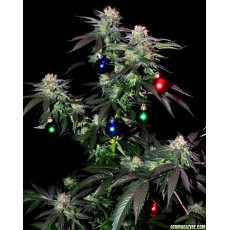 A Canada-based medical cannabis company has a hit on its hands. Coast to Coast Medicinals' novelty Advent calendar — including actual marijuana products — is creating a media sensation.
Coast to Coast started unlicensed operation earlier this year, reports Science Alert. But the business started getting some viral attention after launching preorders for their cannabis calendar. The company is taking advantage of a legal gray area during Canada's transition from medical-only cannabis to a full legalization.
"We just wanted something fun and different for adults," Coast to Coast owner Lorilee Fedler told The Canadian Press
The marijuana Advent calendar has three versions: one contains 24 small boxes with 26 grams of bud. Another version comes with 24 edibles, and a third version comes with with a mix of 12 edibles and 14 grams of flowers.
The calendars range in cost from $200 to $230.
The company sold the first 150 calendars very quickly, with 300 more orders ready for processing atop a waiting list now containing 1,500 people, according to Fedler, reportsThe Canadian Press. "We didn't expect it to be so popular," she said with a laugh.
While they may be breaking new ground in Canada, this isn't the first time a dispensary has come out with a holiday cannabis calendar. Last year, Dockside Cannabis, a recreational marijuana store in Seattle, started selling their ADVENTure calendar.
Medical marijuana has been legal in Canada since 2001. While recreational weed is still technically illegal, Canada plans to legalize recreational marijuana on July 1st, 2018 nationally.
The police haven't contacted Fedler about the advent calendars, and she doesn't expect a crackdown. Oncoming legalization has led to a thriving "gray market."
The fact that the calendar even exists highlights the current gaps in Canadian cannabis laws as the nation transitions from a medical-only model to legal recreational weed.
Coast to Coast has received orders not only from across Canada but from around the globe, according to Fedler. Ireland, the Philippines, and the United States are particularly interested, though she said, for now, Coast to Coast is only distributing the calendars domestically.
Fedler has profited from the unexpected publicity for her business, with hundreds of calendars already sold and in the mail. From a market perspective, it's been a dream.
The calendar is an absolute marketing coup, according to Lindsay Meredith, a professor emeritus at Simon Fraser University's school of business. Meredith called it a throwback to 20th Century "ambush advertising," which uses quirky products to get attention and amplify brand exposure using media.
"You've not seen anything yet, believe me," Meredith said. "You're going to see a lot more of this in development. This advent calendar is a snappy little way of getting the brand name out there and keeping it out there."
Unsurprisingly, anti-marijuana groups think the weed calendars are a terrible idea.
"The biggest concern is it's not a regulated product," claimed Rebecca Jesseman of the Canadian Centre on Substance Use and Addiction. "We're talking about a product that has not gone through quality testing, so there's no way to be certain as to what's in the products in terms of the levels of THC and other cannabinoids, so what the level of intoxication will be."
According to Mark Haden of the School of Population and Public Health at the University of British Columbia, Canada should make legal weed boring. Haden doesn't like that these calendars are generating excitement.
"We don't want to promote it," Haden said. "We want to make it boring. We do not make it boring with advent calendars."