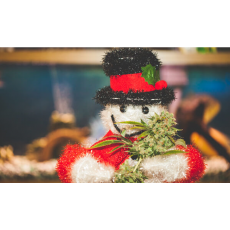 Ring in the Holiday Season with Cannabis Holiday Decorations
Yep, that's right, we said cannabis holiday decorations. The leafy green is becoming so mainstream that it's now possible to find these in stores and online. Check out this list, and then get to shopping, because you are going to have one very green Christmas.
Pewter Pot Leaf Ornament
This is not an adornment for your grandmother's Christmas tree! Amazon has a nice pewter ornament for sale for a mere $8.95. This will look great on your tree, and it's just subtle enough to hide between the angles and the sleighs.
An Entire Tree of Cannabis Ornaments
Want to get even bolder? If it's Hip, it's Here offers up an entire array of pot leaf tree balls. They even make ones printed with "420" instead of the leaf image. This is perfect if you have nothing to hide this holiday season.
A Cannabis Snow Globe
The weather outside is frightful, but the bud is so delightful… and even if you can't let it snow in real life, you can watch the snow fall inside a pot leaf snowglobe, offered by If it's Hip, it's Here.
Cannabis-Scented Candles
Gone are the days when you buy candles to cover up the smell of cannabis in your home. Now that it's more accepted, you can use the aroma to get you in the holiday spirit. These candles from If it's Hip, it's Here are also adorned with a festive sweater pattern.
Cannabis Slippers
Last but not least, you need some warm, toasty slippers for your feet on Christmas Eve. If it's Hip, it's Here has you covered with pot-leaf-printed bedroom slippers.